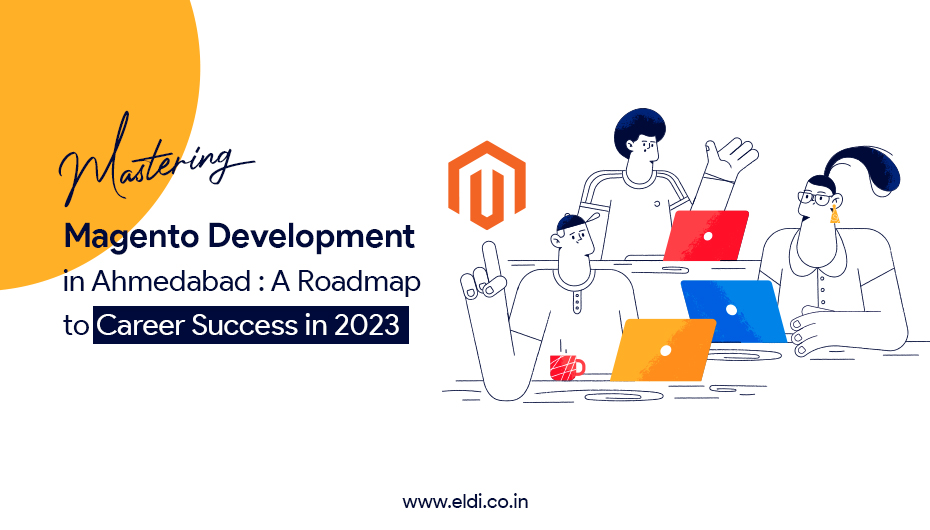 Magento
eldi
February 28, 2023
0 Comments
If you're interested in pursuin g a career in e-commerce development, mastering Magento development with a Magento course in Ahmedabad is a great place to start.  
With the rise of e-commerce, the demand for skilled Magento developers is increasing day by day. Ahmedabad, known as the "Manchester of India," has emerged as a hub of e-commerce development.  
Many top e-commerce companies have their development centres in Ahmedabad, and they are always searching for skilled Magento developers.  
This blog will discuss how to master Magento development in Ahmedabad and pave your way to a successful career in 2023. Along with Magento, you can also sign up for various other IT Courses in Ahmedabad for a successful technical developer career.  
What is Magento?
Magento is an open-source e-commerce platform that's hugely used by businesses of all sizes. It is highly customizable, flexible, and scalable, making it a popular choice among businesses that want to develop an e-commerce website or online store.  
Magento features a wide range of functionalities, such as inventory management, order tracking, customer management, and more. 
A good Web Development course in Ahmedabad will encompass every aspect of Magento 2 development starting from website creation to website maintenance. 
Why Master Magento Development?
Mastering Magento development can open up a world of opportunities for you. With the increasing demand for e-commerce, many businesses are looking for skilled Magento developers who can build and maintain their e-commerce websites.  
Magento development is also a highly-paid job, and it offers a lot of growth opportunities. With the right skills, learning from a comprehensive Magento course and experience, you can even start your own e-commerce development company. 
Here are a few career opportunities that you might want to explore after completing a Magento technical course and GTU Summer Internship. 
Magento Developer

: As a Magento developer, you will be responsible for building and maintaining e-commerce websites using the Magento platform. Therefore you need to enrol on a

Magento crash course that helps you gain knowledge of PHP, MySQL, and JavaScript, as well as the Magento architecture and customization options.
Magento Consultant

: A Magento consultant works with businesses to identify their e-commerce requirements and recommend solutions that are best suited to their needs.

Magento Project Manager

: As a Magento project manager, you'll be responsible for overseeing the development of Magento-based e-commerce websites. You will need to sign up for a

Magento course in Ahmedabad designed to give you an understanding of project management principles and tools, as well as the Magento platform and development process.
Magento Technical Lead

: A Magento technical lead is responsible for overseeing the technical aspects of Magento development projects. You'll need to have a deep understanding of the Magento platform, as well as technical skills in PHP, MySQL, and JavaScript.

Magento Solution Architect

: A Magento solution architect is responsible for designing and implementing complex e-commerce solutions using the Magento platform.

Entrepreneur

: With the right skills and experience, you can start your own e-commerce development company and provide solutions to businesses that are in need of them. As an entrepreneur, you will need the

best Magento course

to have strong business acumen, as well as technical skills in Magento development.
Roadmap to Master Magento Development in Ahmedabad 
1. Learn the Basics of PHP:
Magento is built on PHP, so it is essential to have a strong understanding of PHP to master Magento development. When you register for a Magento developer course, you can start by learning the basics of PHP, such as variables, arrays, loops, functions, and more. Once you have a solid foundation in PHP, you can move on to Magento development. 
2. Get Familiar with Magento Architecture:
Before you start coding in Magento, you need to understand its architecture. Magento has a complex architecture that includes modules, controllers, blocks, and more. You need a Magento development course to familiarize yourself with these concepts to build robust and scalable e-commerce websites. 
3. Master Magento Themes and Layouts:
Magento offers a range of themes and layouts that you can use to build your e-commerce website. You need to master the art of creating custom Magento themes and layouts to build visually appealing and user-friendly e-commerce websites. 
4. Understand Magento Extensions and Modules:
Magento has a vast marketplace of extensions and modules that you can use to add functionality to your e-commerce website. You need to understand how these extensions and modules work and how you can customize them to meet your specific requirements. 
5. Practice, Practice, Practice: 
The key to mastering Magento development is practice. You need to work on real-life projects to hone your skills and gain hands-on experience.  
Once you complete the Magento course with a certificate, you can start practising by building simple e-commerce websites and gradually move on to more complex projects. 
6. Keep Up-to-Date with the Latest Magento Updates:
Magento is constantly evolving, and new updates are released regularly. You need to stay up-to-date with the most recent Magento updates and new features to ensure that you are using the best practices and delivering the most advanced solutions to your clients.
Master Magento 2 Development For A Game Changing Career Experience
With the increasing demand for e-commerce development, there is a great opportunity for skilled Magento developers to build a successful career. 
Ahmedabad is a hub of e-commerce development, and with the right skills and experience, you can take advantage of this booming industry. Follow the roadmap mentioned in this blog, and you can become a successful Magento developer in no time.  
Remember, practice makes perfect, so keep coding and stay up-to-date with the most recent trends and updates in Magento development.