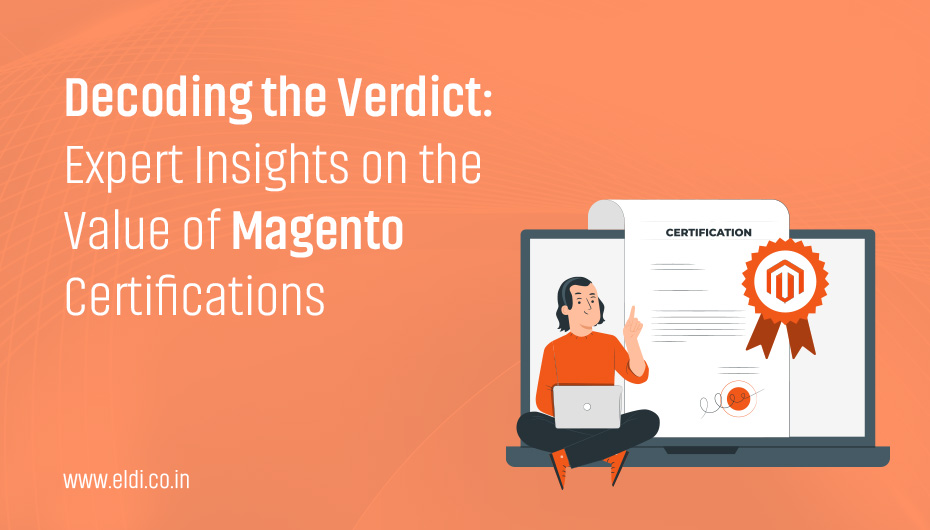 Magento
eldi
October 30, 2023
0 Comments
Do you know that there are more than 6,000 Magento-certified developers in the world today? Are you planning to opt for a Magento course in Ahmedabad and become a certified Magento developer? If yes, then you have undoubtedly made a great decision! 
In the present times, Magento certifications have emerged as a coveted badge of honour in the e-commerce development landscape. These badges of honours signify expertise and help unlock a diverse range of benefits for employers and professionals. 
Here, we will inform you about the insights shared by industry experts on the value of Magento certifications. So, let's dig into the details: 
What are the Different Types of Magento Certifications?
If you are looking forward to doing a Magento course in Ahmedabad to get a certification, then first of all, it is crucial for you to know about the various types of Magento certifications. Let's dig into details about these in the following section: 
Magento Certified Solution Specialist
This certification is mainly designed for professionals who want to get expert knowledge and specialisation in the Magento platform. It also informs individuals about this platform's key features and core capabilities. Solution Specialists are expected to possess an in-depth know-how of the Magento ecosystem. 
They typically work in roles that necessitate comprehensive Magento knowledge, often in advisory or consulting capacities. So, this certification equips professionals with the proficiency required for efficient navigation of the platform, making it a valuable asset while interacting with merchants. You can even consider doing a web design course Ahmedabad to gain more benefits. 
Front End Developer Certification
This certification is known for targeting professionals who wish to get specialisation in front-end development. It validates the proficiency of an individual in employing the XML layout of Magento for modification and improvement of the front-end user experience. Front-end developers are involved in crafting eye-striking and user-friendly interfaces for Magento e-commerce sites.
This certification gauges the ability of a developer to build robust and functional solutions within the Magento platform. It typically covers a diverse range of Magento development practices. Certified developers possess skills in crafting and tailoring Magento extensions, themes and modules. They also know how to troubleshoot and optimise Magento-based solutions.
It is an advanced-level certification that builds upon the foundation of the Certified Developer certification. This certification demonstrates a deeper understanding of Magento's core principles and sophisticated development practices. Certified Developer Plus professionals are proficient in managing complex and demanding Magento projects. They also possess advanced skills in extension development, customisation and performance optimisation.
Earning these certifications is an excellent means of validating the skills of an individual. Again, these help them offer a competitive edge in this fast-paced e-commerce sector.
What are the Key Benefits of Magento Certifications?
Here, we have enlisted the major advantages that you would be able to reap by opting for Magento certifications:
Competitive Edge in Hiring
Whenever you are a certified Magento professional, you can expect to receive a competitive edge while going through the hiring process, as these certifications set you apart. Employers can swiftly identify and prioritise candidates with the necessary expertise for excelling in Magento development.
Validation of Magento Expertise
For professionals, securing a Magento certification and doing top IT courses in Ahmedabad is considered more than just a credential. It demonstrates a commitment to mastering the intricacies of this platform. It also serves as a testament to their skills and knowledge, which is regarded as one of the best parts about getting this certification. 
Quick Decision-Making for Employers
Certified Magento professionals are known for offering a level of assurance to employers. It helps employers to know that a candidate has attained a certain level of expertise. As a result, they can make more expedited and confident hiring decisions.
Expert Insights on Magento Certifications
Now, let's find out what experts are saying about Magento certifications:
Lewis Sellers (Solution Specialist)
Lewis Sellers is a certified Solution Specialist who highlights the value of the Magento certification. He said that the Solutions Specialist exam could prove to be a valuable tool for understanding the intricacies of the Magento platform, its key features and capabilities. Lewis recommends people to take this exam or certification who are looking forward to getting a deeper grasp of the functionality of Magento.
Andrew Pemberton (Developer)
Andrew Pemberton possesses certification in Magento development. He advocates for a hands-on approach and encourages individuals to dive into practical projects utilising the wealth of resources available. It includes Magento Community Forums, Stackoverflow and a vast range of valuable blog posts. 
He also acknowledges the role of certification in offering agencies a competitive edge, allowing them to showcase their expertise to clients. It is something which differentiates certified agencies from non-certified ones. For clients, it is known for offering a sense of assurance, knowing that a company boasts a team of certified and qualified developers.
Carmen Bremen (Developer, Solution Specialist, Front End Developer)
Carmen Bremen holds certification in multiple areas. She views certifications more like personal milestones. Also, she highlights their role in self-assessment and considers it a testament to her competence. She considers it a great way to demonstrate her competence in the field without studying computer science.
Alessandro Ronchi (Developer)
Alessandro Ronchi, a certified Magento developer, considers certification a valuable asset as it has helped him achieve significant career growth. Being among the few certified developers in Italy, this has opened many opportunities for him and his company. He emphasises that this certification has allowed him to venture deep into the core of Magento.
Rebecca Brocton (Solution Specialist)
Rebecca Brocton, a certified Solution Specialist, recommends opting for this Magento certification for hands-on expertise on this platform. She also highlights the importance of intuition and acquired knowledge for excelling as a successful Solution Specialist. Certification not only helps in acquiring knowledge but also ensures the best application of that knowledge.
Miguel Ignacio (Solution Specialist)
As per Miguel Ignacio, who is a certified Solution Specialist, certifications are just a piece of paper that conveys that you have met the minimum standard of knowledge on a particular subject. It is the amount of effort and time you have invested in getting the certification which is something that matters the most and ensures its success.
Consensus on Magento Certifications
From this, it can be said that the experts have unanimously admitted the importance of Magento certifications in recent times. These certifications tend to play a crucial role in professional and personal development. 
They also consider certifications as vital tools for self-assessment and validation of expertise. Along with that, these also considerably impact client relationships and career growth. 
Final Verdict
So, it is evident from this detailed discussion that Magento certifications are invaluable assets that can help recognise your expertise. Ultimately, by opting for the Magento course in Ahmedabad, you will be able to achieve success in your professional journey. Wishing you the best of luck for your bright future!