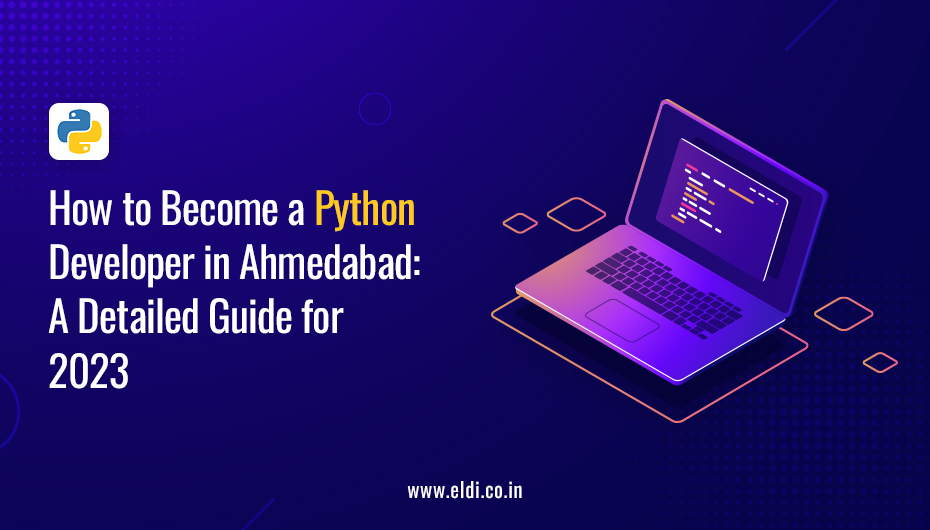 Python
eldi
January 20, 2023
0 Comments
Are python developers trending? Did you know that four of five developers consider Python their main language? There is no better time to start your career in something that is in demand. 
If you are at a learning stage and looking to decide on a secure future, it is important to have a versatile, simple, and flexible platform. 
We will share with you a detailed guide to enrolling in a python course in Ahmedabad to become a successful developer and expert in the field.
What is Python? Who is a python developer?
It is a high-level programming language to create applications, websites, and platforms. It is a popular platform that beginners and experts choose. Python is an object-oriented language that is used in server-side development. The platform supports modules and packages to ensure great features and functionalities. 
A python developer is responsible for the coding, designing, deploying, and debuting the development projects. They will create an app, design a framework, build tools, create websites, integrate resources, or publish new services.
There are many jobs like software engineer, data scientist, business analyst, web developer, or dedicated python developer. Many industries like education, finance, healthcare, and more use Python to innovate their platforms. 
How to become a python developer?
1. Build your career:
Even if you have a list of your skills and interests, it is better to have a career plan. This ensures that you have a process to understand the goals. Some questions you need to answer:
How do you plan to learn the language?

Which areas of Python gain your attention?

How much time and estimation do you plan to invest?
2. Research about courses:
There are many Web Development course in Ahmedabad that guide you from a beginner to an expert developer in Python. Focus on the curriculum of the course. Some of the things to note are:
Eligibility:

It might be suitable for beginners, students, software developers, technical leads, programming enthusiasts, and software engineers. This gives you a clear window if you have made the ideal choice. 

Pre-Requisites:

Most courses do not require any experience or expertise in Python. It is often known as the easiest programming language to learn but challenging to master. 

Course Content:

It is better to understand if the course provider gives knowledge about the basics, data operations, conditional statements and functions, error handling and file operations, shell scripting and Django, logging infrastructure, Unittest infrastructure, and networking concepts. 

 
Real-Time Experience:

If you get a python development course, it is important to take challenges in real-time to understand your strong and weak points. 

Certification:

It is important to get a certified course to help you prove your investment, expertise, and efforts. 
3. Become an expert:
Most organizations provide a great opportunity for the candidates to gain expertise in the python language. There are plenty of choices to stand out from the competition. Some of them are:
Internship from an organization 

Sign up for regular updates on recruitment 

Contribute to projects 

Follow live projects 
An internship is a great opportunity to experience the real world and check your interest and caliber in the development industry. But a Web Development course in Ahmedabad can also support becoming an expert. 
4. Prepare for your goal:
It is better to begin researching the job that meets your targets and goals. Some of the things you must consider before applying:
Networking:

Using social media networks to connect with developers or employees of the organization that you are interested in. Participate in python conferences and job fairs to grab great opportunities. 
Build Portfolio:

This will help you to approach the interviewer and other connections by showcasing your achievements and experience. 
Interview preparations:

Deal with the coding challenges, common technical queries, and forums to understand the interview pattern. 
Python is a widely-used, high-level programming language known for its readability and simplicity, making it a great choice for beginners. Additionally, IT Courses in Ahmedabad provide courses for a universal language used in a wide range of applications, including web development, data analysis, artificial intelligence, and scientific computing. 
You can work with various tools and technologies by learning Python, opening up many career opportunities. It is an open-source language with a large and active community, which means a wealth of resources and support available to help you learn and grow as a developer.
What are jobs you can get using python expertise?
They use Python to analyse large amounts of data and identify patterns and trends. They use libraries such as NumPy, Pandas, and Matplotlib to manipulate and visualize data and libraries such as sci-kit-learn and TensorFlow for machine learning. They also use Python to build predictive models and algorithms to extract insights from data.
They use Python to collect, clean, and analyze large data sets. They use libraries to manipulate and visualize data for making data-driven decisions. They use Python to create reports and dashboards to communicate insights to stakeholders.
Skilled software developers and engineers use Python to build and maintain software applications. They use libraries to manipulate data and build web applications. They deal with this programming language to create automation scripts and tools.
Research and Financial Analyst:
They use Python to collect and analyse data, research, and make data-driven decisions. It also smartly uses financial models and performs statistical analysis.
Machine Learning Engineer:
These Engineers use Python to build, train, and deploy machine learning models. Optimize and improve the performance of models using the right features and functionalities of Python.
Artificial Intelligence Engineer:
Python is used to build, train and deploy AI models. They use libraries for computer vision and Natural Language Processing. They also use this programming language to optimize and improve the performance of models.
Web Developers use Python to build and maintain websites. They have a large community to provide the best solutions. Accessing and integrating the best tools to enhance platform performance is easier. 
Conclusion 
We will give you a final suggestion to get the best python course in Ahmedabad and unlock your potential and skills. Just ensure you have all the benefits and support to grow as a python developer and get expertise from the best. 
Related Post:
Get started with PHP Courses in Ahmedabad
The Complete React.JS Course for Beginners