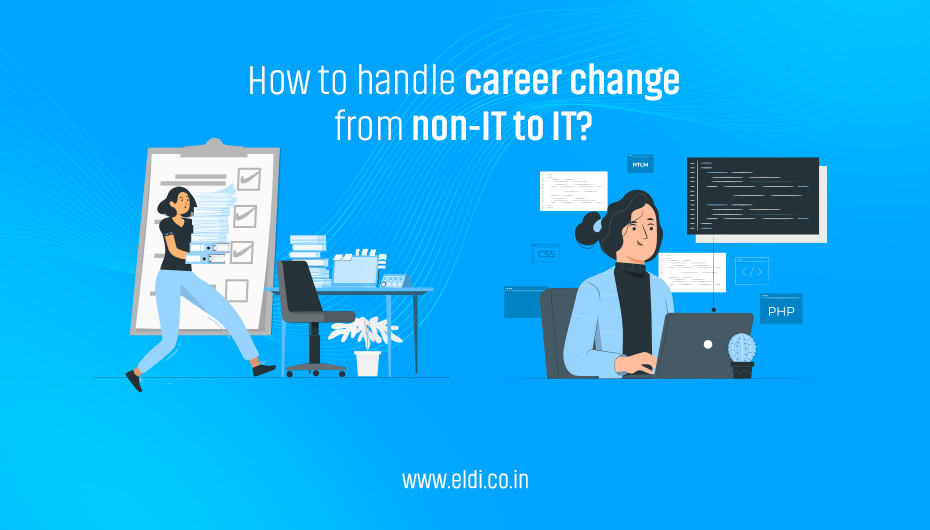 Web Designing
eldi
September 21, 2023
0 Comments
Did you know that 35% of the total world market is tech industry? This means you while making a career choice, you have better opportunities to grow and earn more. It is important to look for the right mobile app development, development, or web design course Ahmedabad. 
Starting a career in the IT industry is a huge responsibility and comes with great challenges. The competition is high, and choosing your ideal job can be tough with minimal information. 
Why do you plan to switch your career to IT?
There might be multiple reasons that you are planning to move into the IT industry. It may be due to fewer opportunities in the non-IT sector, real-life problems, or exploring new career choices. We have our experts to guide you in the process and build a career that helps you showcase your excellence. 
It is essential to research the career plans suitable for your interests and help you grow your knowledge. The main reason people look to switch to the IT industry is the great work culture and salary package. 
What is the road map to switch from a non-IT to an IT career?
As industry experts, we have experience in understanding your delusion, and here is a detailed guide to help you build the right path:
Select your domain 
There are many opportunities, so instead of diving deep into the ocean, do your research first. Look for the job roles that will meet your expectations. Some of them are:
Web development:

 It will train to build websites and web apps. If you have expertise in coding or want to learn, this will be the right choice. 

Data Science:

In case you love dealing with data, finding patterns, and analytics, this job role would help you excel with this opportunity. 

Admin and Networking:

If you

have the right knowledge related to internet connection, IT infrastructure, and system admin, you may consider this.

Digital marketing:

This is a blend of creativity and technology where you will be responsible for strategizing campaigns, SEO, and managing your online reputation. 

Cloud computing:

When businesses are migrating online, the requirements for cloud solutions and security are increased. 
Training and Experience
It is essential to look for the right mobile app, ReactJS or Flutter Training Institute Ahmedabad, which will provide you with the whole career goal. It should not be limited to attending lectures, reading books, or tests. The training should provide you with practical knowledge. 
They must provide you with a structured learning path and resources while maintaining consistency. Many training institutes will train you but might not provide any assistance related to placements. 
Excel in required skills
This might seem difficult in the starting, but it is possible to learn and excel in the technologies that are in demand. There are always defined skills and knowledge for each job role, which means you have your final target. 
IT training plays a significant role in shaping your future in the IT industry. You can upskill or reskill your knowledge to succeed in IT roles, cybersecurity specialist, software developer, data analyst, or other career roles. 
Find your mentors
Try connecting with professional groups, where you can get guidance about the job and experience in the market. They will also provide you necessary steps to get into the ideal profession successfully. 
Get Certification
There are many certifications available that will make you a more marketable job applicant. This will emphasize collaboration, problem-solving skills, and strong communication. Getting certified is a smart move to future-proof your career in the IT industry. 
Why get an internship during a career change in IT?
It is a formal program that will provide practical experience in a specific profession or occupation. The important aspect of the internship is classroom knowledge and theory with practical applications. Student interns gain this experience in a professional setting, which adds benefit to their professional careers. 
Some of the reasons to get a development, marketing, or web design course Ahmedabad during your internship are:
They will help you connect classroom knowledge to real-world experience. You need to take these skills in the workforce and apply them in your different career paths. 

It will provide you an experience in the career field and get a preference over other individuals while applying for jobs. 

Having an internship will make you familiar with the professional network. Connect with people and have discussions with similar interests. 

As a student, you need to brush up your soft skills for workplace and leadership positions. Be it communication, problem-solving, or teamwork, you can learn everything during your internship program. 

Learn how the professionals work, hear from guest speakers, or case studies of the workplace culture. A qualified internship program will help you excel in workplace culture, leadership culture, employee relations, and other skills to get on board with a professional job. 
How to choose the right internship program in the IT industry?
Self-Assessment:

Start assessing your skills, career goals, and interests. Find out if the internship will help you gain specific skills, explore a particular industry, or build a network. 

Define criteria:

Build a list of criteria that are essential for the internship program. This should mention factors like company size, industry, location, duration, remote work, and potential future employment. 

Research:

Find out the industries that align with your career and interests. Consider the factors like company reputation, workplace culture, and project types for interns. 

Online resources:

There are multiple online platforms where you can search for internship programs. 
The Final Note
We hope that now choosing the right internship program for web development, mobile app development, or Flutter Training Institute Ahmedabad is easier. Thoroughly research to make an informed decision that meets your professional goals and maximizes the benefits. 
Look for an institute or company that provides you with training, internship, and employment opportunities to make it easier during your career switch from non-IT to the IT industry. You can also connect with our industry experts for better guidance and learn the detailed process.