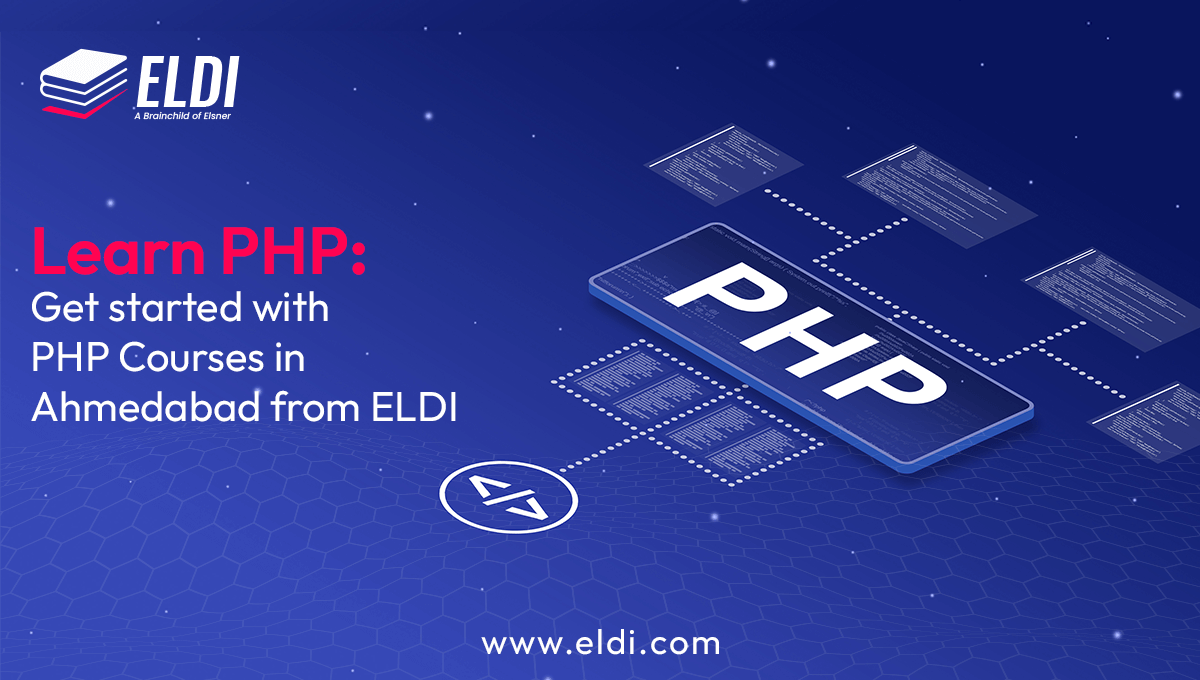 Web Development
eldi
December 5, 2022
0 Comments
In an industry where everyone is working hard to achieve their goals, investing your time and efforts in the right choice becomes important.
PHP is a popular programming language in the IT development platform, but many beginners and advanced programmers are missing the good standards of the technology. Here is where skillful training solves the issues.
Many students are curious to indulge in the advance and core PHP course in Ahmedabad to have better opportunities in the future. With PHP training, one can achieve better career plans and understand their strong sections where they can put more effort.
What is PHP, and Why PHP?
The Hypertext Pre-processor (PHP) is a server-side scripting language available as an open-source tool that anyone around the globe can use. It is normally used to create and build websites and web apps using MySQL.
Some important reasons to invest in a PHP course are:
The language is relatively easier to learn when compared to other programming languages.
The application that runs on PHP can run on any operating system as it is platform-independent.
It provides faster loading even on a slow internet connection
Reusability of code which makes it a developer-friendly as it saves their time and efforts
The platform has a robust library that will help to add unique functionalities and features
All major businesses are inclining towards PHP, which means great opportunities
What are the things to focus on while searching for PHP courses in Ahmedabad?
Choosing the right platform to learn PHP is not always easy as the demand and resources increase according to the users. Some important factors that you must consider are:
The Course Content
Whether looking for the best IT courses for GTU Summer Internship or future career path, gaining relevant knowledge is important. PHP is a highly dynamic platform that changes with the industry's demands, so you should be aware of what you will learn during the course.
Level of Trainers
This is an important criterion, as your trainer should have the right experience and knowledge to explain the platform in detail. So, before you take any final action, ensure that industry experts will train you with the right skills and resources.
Hands-On Experience
This fast-pacing industry expects students to have practical insight to make a successful career. The training institute should allow you to work on live projects and ensure you completely understand the programming language.
Placement Opportunities
Many institutes provide complete job support after completion of the core and advance PHP courses. This helps the students to get the best outcomes from the skills and knowledge they have gained during the course.
Soft Skills Support
You may have all the practical knowledge but fail to showcase them during one-on-one interaction. It becomes the institute's responsibility to enhance your personality for the market and provide other necessities to groom your skills.
How ELDI makes your PHP course in Ahmedabad beneficial for the future?
Considering the student's exposure to the industry, we assure to provide the right platform to learn and scale up your knowledge in PHP. The entire course is dedicated to offering the students hands-on experience, ensuring they become logically sound for their careers.
We have a team of expert developers that will help you focus on the different courses of PHP:
Core PHP course in Ahmedabad
If you want to build a strong PHP base and have minimal knowledge, then start with the core PHP course at ELDI. The curriculum will involve the following:
PHP overview: We will familiarize you with the platform's installation process and some basic terms.
Object-Oriented Concept: You will learn about the abstract class, constructor, destructors, interface, function, inheritance, and more.
Jquery: In this module, you will deal with form validation and the validator method.
Ajax: Our team of experts will give you a detailed overview of Ajax with good examples.
Many IT Courses in Ahmedabad provide such modules, but it takes an experienced developer to clear your basics. As a student, if you know the core elements of PHP, it becomes easier to deal with advanced technologies in the future.
Advance PHP course in Ahmedabad
If you believe you have all the basic information about PHP, it is time to scale your development career in PHP. Some modules that we provide during this course are:
Functions: The four vital functions in PHP are date, time, debugging, and logging. Our developers will invest their time to ensure you learn how to work around them.
Dynamic Uses of Functions: If you want to excel, it is crucial to discover code reuse, feed a function, and return data from the function.
Error Handling: You learn string manipulation and error handling using an exception mechanism which is highly significant to run a platform smoothly.
SMTP: The Simple Mail Transfer Protocol helps to discover database connectivity, extension methods, and application repository.
PEAR web services: When you are excelling, it becomes important to learn about SOAP, NU SOAP, WSL, and other templates to build a fully-functional platform.
Frameworks: The market demands understanding frameworks like CakePHP, Yii, CodeIgniter, and Zend.
The modules mentioned above are the core segments of the Advance PHP course in Ahmedabad, and they become capable of handling all the tasks efficiently. Once you are thorough with the advanced level of PHP, it becomes simple to choose your career path and understand your strong sections.
What are the career opportunities in PHP?
The last thing, as a student, you should be asking is, what should I choose as a career path in PHP? Some career choices after you excel in PHP language are:
Web Development
If you think you are highly proficient in PHP, you can be a webmaster, web designer, architect, and more. The main responsibilities are creating a foundation, using the right colors, monitoring site performance, and improving features.
Server-Side Scripting
This technique uses scripts to follow the requests on the website and share a custom response.
Command-Line Scripting
It includes the parsing on the web server for the user browser to handle the right HTML. The language has the ability to execute the script without any server program.
Compiler-Based Apps
If you have knowledge of multiple languages, you can create an application in a specific language and align it with the PHP ecosystem. Being a flexible platform always allows you to be innovative and unique.
Desktop Application Development
A highly versatile programming language can be used to develop client-side apps. But this requires knowledge of client-side scripting languages: HTML, CSS, and JavaScript.
Database Management
As a PHP developer, the main responsibility is managing the database from the right resources. This deals with integrating PHP language with database management tools. There are various database management tools like Oracle, MySQL, and more.
There are many more choices when you become an expert in the PHP language, as it can be integrated with other platforms. The only demand is to have all the basic and advanced knowledge about the platform with experience in live projects.
What is the future of PHP programming language?
Currently, it is an advanced scripting language that is being used by 77.5% of all websites. Many leading brands like WordPress, Joomla, Drupal, and more are gaining the benefits of the language. Follow the trends to gain a competitive edge are:
Chatbots: To gain better customer retention, it is important to provide strong customer support. The platform has adopted chatbots with a revolutionized method to engage with users.
Security: With the increase in data breaches, scams, and online vulnerabilities, it is important to handle cybersecurity. The latest releases of PHP ensure the protection of your platform.
Effective UI: The platform has an advanced and feature-rich performance to provide a smooth customer experience. It will help to succeed in the competitive market.
Community Support: It is an open-source language that makes it the right resource to be more interactive for developers. The platform has a large community of developers to make it effective when it comes to frameworks, components, and web development tools.
Ease of Integration: With no strict patterns, web apps, or platforms, it gives you the freedom to scale the business to a large scale. It has made a presence in every industry with a plethora of tools and resources.
With such amazing advantages in hand, there is no denying that PHP is better when compared to other programming languages. It is just that you need the right guidance to unlock the power of PHP. The platform offers great tools, features, and resources to grow a business hassle-free.
Summing it up!
It will be a great opportunity to learn through advance and core PHP course in Ahmedabad from the best experts in the industry. When you know a coding language, it is important to focus on a realistic environment and work on live projects to master your skills.
Be it design, development, or another field in PHP, and our experts have the right knowledge to enhance your talent toward the right path. We will ensure that you understand the programming language's concepts and use by learning from industry experts. The key is to help you learn and implement things practically.
Related Post:
How to Become a Python Developer in Ahmedabad
The Complete React.JS Course for Beginners