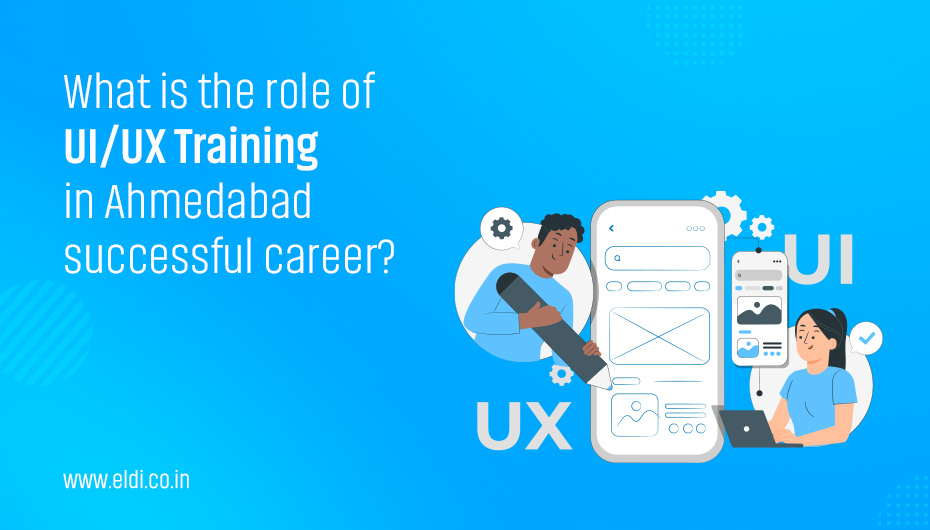 UI/UX
eldi
September 27, 2023
0 Comments
The importance of UX is undeniable in almost every marketing strategy. Whether it's your website or application, you need to deliver the best interface to put customers at the centre of your overall marketing strategy. And that's when you deliver the best experience to them. 
The demand for astounding UI/UX is so high it has now become a lucrative career option for most individuals out there. The world today is evolving at a rapid scale, and digitalisation is at the forefront of everything. Therefore, people are looking for UI UX courses in Ahmedabad to pursue their passion in the domain! 
Creating an online presence requires optimal UI/UX on priority. And that's where the need for professional experts comes into play. Earning this expertise does come with practice and diligence, but one should also take care of the foundational knowledge behind it. 
So, let's take this article further to help you understand how an impactful UI/UX course can help you with a rewarding career in the domain. 
What is UI/UX Design?
UX design is the fundamental process of delivering a good experience to a person when they interact with your digital product. The focus of UX design is mostly on the interaction between human users and your digital brand promotional platforms, products or strategies. 
UI design, on the other hand, is the user-centric approach for designing the overall aesthetics of your digital product. In short, a good UI represents an appealing feel and look of a website or application. Being a UI designer, you will be responsible for creating the graphical layout of the brand's website or application, which should be highly functional as well as visually appealing. 
Why are Professional Courses Important for You to Learn UI/UX Design?
As simple as it might sound, UI/UX design isn't that easy a task to achieve success in. It demands individuals to understand overall human behaviour, several visual designing principles, the psychology of consumers and how to better their interaction. 
These are the fundamentals that go into educating you on the crucial attributes of mastering UI/UX design. Therefore, seeking help from a UI/UX designing institute Ahmedabad with a dedicated course is of great help if you want to build a career in this field. 
Upon successfully completing the course, you will be able to create effective designs that will enhance the performance and customer satisfaction quotient of the client websites, apps or other digital products. 
Today, there are countless job opportunities out there in the field of UI/UX design, and the entry barriers are low. You have access to a lot of online resources to scale your foundational knowledge in the domain. To learn those UI/UX design fundamentals, you can rely on the best certification courses from reputed institutes in Ahmedabad. 
How Can UI/UX Design Courses in Ahmedabad Help Your Career Boost?
Are you confused about whether you should solely rely on online resources or take an expert's help in mastering the fundamentals and advanced strategies of UI/UX design? If yes, then you must know this is a competitive sector today, and every other individual is trying to be the best in their skill set. 
So, when you approach UI/UX design with just the help of online resources, there will be limitations on what you can do and how you can make your clients satisfied. There are several technicalities that you must be aware of while attending to designing projects for your clients. And that won't be a possibility for you to acquire unless you are strong on fundamentals. 
So, to help you feel more convinced about taking the courses at the best digital marketing institute Ahmedabad, here are a few reasons that would entice you:
Attend to the Rising Demands in the Industry
Google has made an announcement that the sites with good UI/UX tend to rank higher over the search engine result pages. Therefore, all businesses and digital product owners are focusing more on UI/UX design to help set their brands on top of the competition. 
And they look for the best experts in the industry to hand out their projects, who can assure them of an industry-winning design. Therefore, taking up courses from reputed institutes in Ahmedabad will strengthen your profile and will let the business owners know you are an experienced designer to trust. 
Hence, this will help you build a stable as well as successful career to embark on in the long run. 
Be Ready to Implement the Newest Technologies
The digital world for businesses is continually improving, and there are often new technologies that get introduced for scaling the UI/UX design. Learning from the professionals through a certification course will help you be educated on the right integration of those newest technologies. 
Following that, you can help your clients with the implementation of those technologies in their UI/UX design and make their brand a hit. Over time, as more advanced concepts come into play, you might have to attain certifications on those individual tech solutions as well. Thus, it will help you be a remarkable designer in the industry. 
Unlock Brilliant Career Opportunities
Whether you want to be a freelance UI/UX designer or a full-time employee, there are several opportunities waiting for you to present your expertise. Some of the job roles you can absolutely seek with the course certification include UX researcher, UI designer, UX engineer, UX writer, UX designer and others. 
When in this field, you will be able to take up specialisation courses to be the best in your team. There are ample subsets of UX design that you can master to determine your area of expertise. And that's possible when you take a reliable course from any digital marketing institute in Ahmedabad. 
Bottom Line
So, this article elaborates on clear insights into how UI UX courses in Ahmedabad can offer you a pathway to earn the expertise. UI/UX design is a lucrative and highly rewarding career option that you must count on for a fruitful future in the digital development or marketing domain. 
All you have to do is look out for the best institute in Ahmedabad that offers a detailed course on UI/UX design, the certification of which holds utmost importance in the job seekers' world out there.